Pacific Beach WA
construction in progress

Red Deer, Alberta
Estate Entrance, Blue Limestone

Cumberland, Ontario
Multi-colour Granite veneer


Richmond Rd ,Ottawa,Ontario
Multi-colour Granite stone veneer


The beginning of the classic stone project in the state of Washington.
Multi-colour quarry stone.
Also the island was a challenge too, the material was thin wall therefore the fasteners for the metal lath which hold the stone would protrude through, the solution was to use masonite and special bonding agents in our mortar.
Stone Veneer Golden Lake Ontario

,
multi-colour river rock or fieldstone was the order for this beautiful curved fireplace and kitchen island. This cause for a bit of our creativity as well, in this situation the fireplace is built in a corner and there is no access for maintenance in behind the fireplace being that there are blowers involved one may need to do some maintenance in the future, therefore, an entry way had to be built in the front of the stone fireplace. Can you see the stone door on the right of the fireplace?
The next challenge was to do a 135 degree corner, although the fireplace may not look it and you have to look hard, but it does swing around to the left where the 135 degree corner became involved. We were able to accomplish this without special cutting 135 degree corners (which we could have easily done with our special cutting built machine) we have a nifty way of overlapping the thin edge of our stone veneer to make the corner perfect and undetected, one would never know that it is only river rock thin veneer, in doing it this way we
were able to save the homeowner some valuable dollars.
Multi-colour field stone. This project required a good selection of smaller stones due to the tight working space around the edge of the front door and the garage door. This slowed down the progress and obviously cost a little more, but the results were worth it.
Click on the pictures to enlarge
The 90 degree corners were strategically planned so as to have different colours and different sizes, not to be duplicated one on the other.
This breakfast nook feature required many hours of intricate detailed work, sizing and choosing the right shapes and colours to make the blend of the multi-colour granite to compliment the siding.

This little stove needed the heat barrier behind it, this was also done is multi-colour granite. Note: the woodbox entry way to the right.

This gorgeous home in the Ottawa valley is a Discovery Dream Home constructed by Kealey & Tackaberry Log homes. The owners chose the Multi colour granite which is so common in the Ontario region.
As you can see, it covers many different types of field stone or river rock granite from almost black to the reddish
which you see a lot in your Ontario country road side rock facing cuts. There are many shades of greys and whites
as well as different beige shades which is an excellent choice.

Pembroke, Ontario just north of Ottawa on Highway 17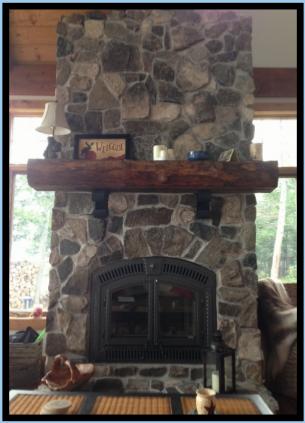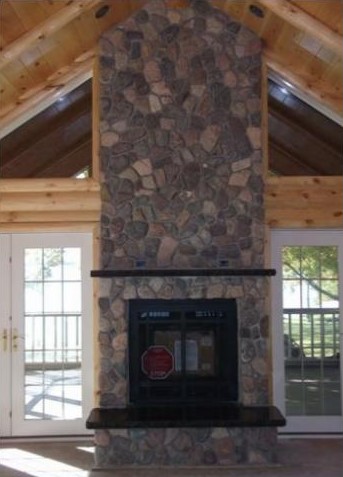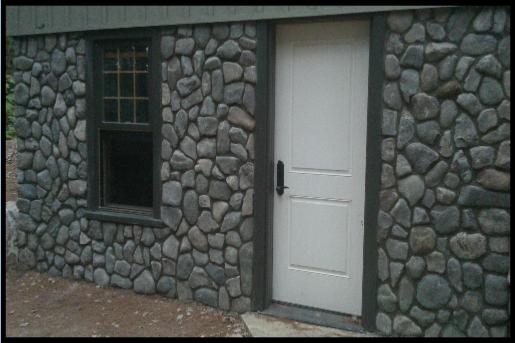 Old Homestead River Rock Stone Veneer
Robinson Lake, Ontario

Consist of many shades of gray to black, is the easiest way to describe this sandstone and slate river rock, is that it has a distinguished characteristic that would be accomplished by an old homesteader farmer who went out back in the field and used all the handy sandstone and slate fieldstone river rock type he could find.



Our client came with a photograph of an old fireplace very much like you see in the Quebec pioneer and Ontario homesteader antique settings. Could we duplicate it, or how close could we come? We felt it was a challenge that we could accomplish. In the spring of 2013 it all came together.
Earthtone stone veneer colour is like the name implies, brown to almost black fading in places to almost white, pale brown in other places. Sometimes a complete stone will be almost consistent brown or dark brown to almost light in colour.


Multi-colour River Rock
-
Presque Isle, MI

This is a popular choice stone, ranging from snow white, pale pink, off green, light and dark brown occasionally brick red, grays with white strip through them and so on.
Here, the common granite used in this area for centuries for foundations and ornamental from our local quarries. This same stone is in our ancient river beds. Multi Colour Granite varies in light beige to white, pink and even to shades of salmon pink and pale yellow to dark coarse dark specks in the quartz fieldspar mix that makes up this granite. It is the right combination to a log home foundation and fireplace.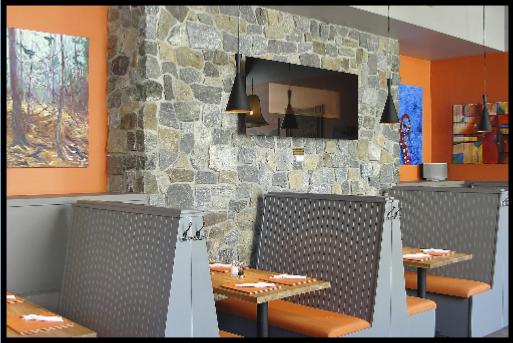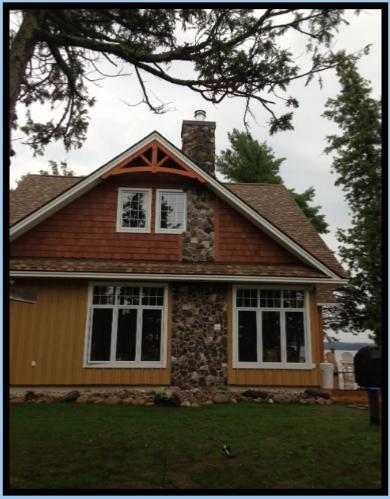 Multi colour Quarry Stone , Isaac's Way Restaurant, Fredericton, NB