Multi-Colour River Rock Stone Veneer
This is a popular choice stone, ranging from snow white, pale pink, off green, light and dark brown occasionally brick red, grays with white strip through them and so on.



Packed in a wire crate from 50 feet to 100 feet and 120 sq feet per crate. Corners stones are cut at 90 degree angles and are of the same Multi - colours in size 4 inches length and width to a maximum of 8 inches in length and width. Corner stones veneer is measured by lineal feet and can be ordered in the acquired amount of lineal feet needed with an order.
"

Tom, the thing that surprised me is, I called all over and I can't figure out why you are cheaper and it is real stone
."

Mike
Golden Lake, ON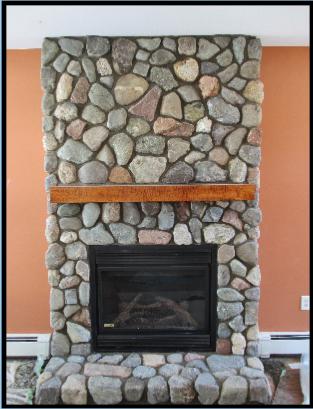 We were asked by Grand-Designs of PEI could we possible build them a multicolour river rock fireplace with deep set joints bulbous type appearance. Well it didn't take much thought, thats one of the many concepts that we do. You will notice the joints are dark, this is due to the fact the picture was taken before the mortar joints were dry. When the mortar cures the joints will turn a nice natural white-gray appearance.
Thanks Tom & Mark it is just beautiful, exactly the look that I want.
Susan Friesen, PEI

The next project a double sided fireplace for Karen & Gary Ogle of Island Cottage Services in PEI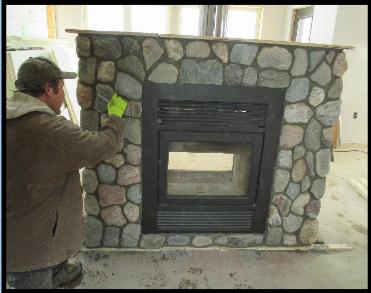 Pardon the poor photography we will have a picture of the finished fireplace shortly.
Now we are off to the next site in beautiful Prince Edward Island