These fireplace mantles are genuine solid wood and like our real stone veneer are not artificial. There is a definite appeal with real stone and real authentic wood, these two go together hand in hand. Our mantles are of the major Canadian exotic woods that are now rare in the Ottawa valley. We have located native black cherry that was once so common in Ontario,Quebec and New Brunswick. Exotic local hard maple that always was and is more so, hard to find through out the regions of Ontario and Quebec we have the beautiful fiddle back or Curly maple, Birds Eye maple wood and spaulded maple mantles.
These are
not
thin veneer 1/40 of an inch thick that is seen on expensive furniture, violins and guitar. These are solid 1" planks fitted together top, bottom, end and sides to create a one of a kind exquisite mantle. 2
1/2
" -3 " thick 6" to 10" wide, 3 to 6 feet long, which are custom made for you.
Each mantle is fitted with a back batten which is an allowance for the stone installation. Also two sturdy hangers to attach the mantle to the interior framing of your fireplace.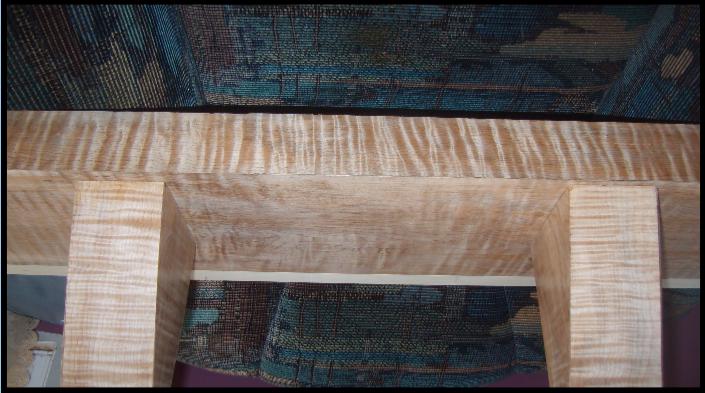 Wood & Timber Mantles

Whatever the stone veneer you choose, your mantle is one of the main focus points, so it has to be a good one. We have them from exotic hardwoods that are all found in the Ottawa valley through Quebec and the Maritimes.

The mantles for your fireplace can be a major decision we have tried to clarify in the photos with a good explaination as possible. It should be known that all mantles and all thick pieces of wood for that matter will crack when the drying process continues, even kiln dried cracks serverly. The best way to mimumize the cracking is by aging or drying very slowly.

Any mantle can have a backing board, which is nothing more than a rough board put in back of the mantle to take up the space. This backing board is mortared into the stone work and not seen. Therefore, elimating the problem of losing part of the mantle in the stonework.

Mounting the mantle, there are a host of ways to mount a mantle an easy way we have found is to simply put a strap of steel to the back on each side of the mantle so it will line up with the studs in the fireplace chassis and simply nail them to these studs. This has to be done obviously before the stonework is done.

If you are interested in one of these mantles more photographs can be taken to highlight any concerns you may have.

All these mantles are available for delivery in the Maritimes, Quebec and Ontario.




Hewn Timber Mantles

Timber frame, log and stone go together like no other. Real field stone and hewn timber barns that dotted the country side in Ontario and Quebec can be employed to your exquisite home.

These timbers are from spruce and pine, mostly white spruce hewn over 100 years ago. It is getting harder and harder to find good quality timbers and the barns falling down and much of the timber have rotted.



Ontario and Quebec antique hand hewn spruce and pine over 150 years old hewn by our forefather homesteaders. You can see that these beautiful beams were hewned with a swipe of a broad axe with exact precision that made straight square beams seem impossible to us who nothing about the art of hewning timber. Many of the timbers have the tenons still attached the mortarts and pegs are left as they were a hundered years or so ago.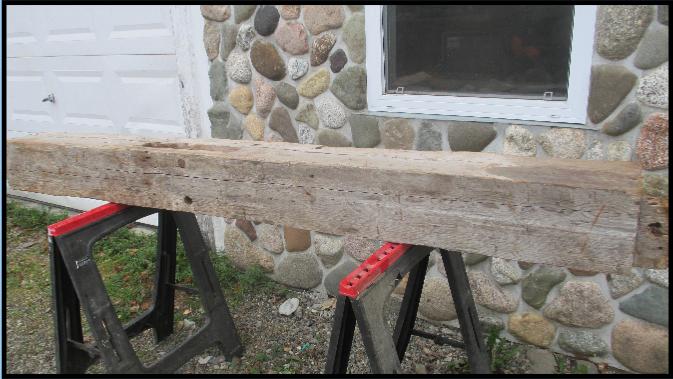 This is a natural weathered barn beam. It is 88 inches long x 8 inches x 7
1/2
inches. It has a long mortis midway a tenon on the end that is slightly bruised (which can be cut to correct. There are two wooden dowels part way up. This beam is solid and never been abused by weather, fire, chemicals, barn odors or any other damage and it would make a fine finish to any fireplace. It can be oiled to the personnel delight or left plain.

This old barn beam is specially oiled. It is 84 inches long (7 ' ) x 7 inches x 5
1/2
inches. It is oiled with our special blend of oils to keep down odor. This mantle is solid never exposed to the weather, smoke, chemicals and has no barn odors or any other odor except for a light hint of oil.

Here is a figured maple mantle which is 65 inches long x 6
3/4
x 5
3/4
inches. It is stained with our special blend of Hemlock tannic tea and oil. There are some defects on the ends which can be cut off to meet your requirements. This mantle has been aged for one year in wood work shop. It has no chemicial odor other than a slight hint of oil.

This is a slightly curly maple, it is 74 inches x 9 x 2
1/2
inches. This mantle is natural coloured in various portions plus some curly figure making it very unique. One end there is some spaulding which can be cut off if needed for the desired length. This mantle has been aged in the woodworking shop for 3 years. There is no colour or stain applied, this will be your choice.

A plain hard maple mantle. It is 65 inches long 9
1/4
inches wide x 3 inches thick. It is planned and sanded ready for your stains and finishing. It can be cut to desired length and has no odors or unnatural stains and is solid wood with no defects. It has been aged for 3 years in wood work shop
.

Hard Maple mantle part curly. It is 80 inches long, 5
3/8
inches x 2
1/2
inches. This mainly heart wood it has features of curly maple that can be brought out with your stains and finishes. This mantle was aged for 3 years and has no defects on the finished surface. It is 5
3/8
inches wide and can be widened (like all mantles) with a backing board. The backing board is mortared in the stonework leaving only the finished mantle exposed
.