Earthtone Quarry Stone Veneer
Earthtone stone veneer colour is like the name implies, brown to almost black fading in places to almost white, pale brown in other places. Sometimes a complete stone will be almost consistent brown or dark brown to almost light in colour.

Size varys from about 5 x 5 inches in diameter, to 14 inches in length by a maximum of 12 inches in width. This stone veneer is in irregular shapes often straight angles. the thickness will vary from approximately 1 inch thick to approximately 2 inches thick.

Packed in a wire crate from 50 feet to 100 feet and 120 sq feet per crate. Corners stones are cut at 90 degree angles and are of the same earthtone colours in size 4 inches length and width to a maximum of 8 inches in length and width. Corner stones veneer is measured by lineal feet and can be ordered in the acquired amount of lineal feet needed with an order.




Our quarry of earthtone stone veneer is of a type of fine grain granite that requires special diamond blades to cut it. This quarry has stone that is naturally broken clean lines and has worn very little making it ideal for that stone fireplace or exterior walk out.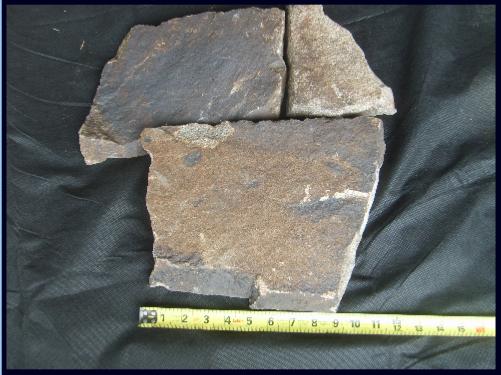 May 2013
Summer Cottage on the Ottawa River near Pembroke, ON,. Earthtone quarry stone with wide joints was the special request of the homeowners.


Stone veneer for Ottawa, Ontario
,
Munster to be exact which is twenty minutes from Ottawa.
This huge stone fireplace of earthtone stone veneer was completed December 7, 2012.
Malcolm & Sue's choice of cut earthtone stone veneer for their stone fireplace was to bring a little bit England's country side to their log home

.

In the fall of 2012 Pat Gaveline came to the site in Munster, ON, with a photograph of an old fireplace very much like you see in the Quebec pioneer and Ontario homesteader antique settings. Could we duplicate it, or how close could we come? At this time we were doing and old english style fireplace for Malcolm & Sue Stubbs (see the photos below). I felt it was a challenge that we could accomplish. In the spring of 2013 it all came together
.

With "Many" Thanks
The Fireplace Looks
Absolutely Wonderful

Isabelle Graveline
Smith Falls, ON